Missions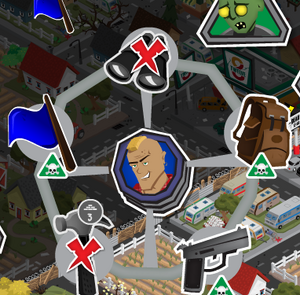 Missions are useful in-game actions performed by your survivors. Every survivor is on a mission at all times. The default mission is Guard Duty, which they'll automatically return to after completing any other assigned mission. Missions are used to scavenge for supplies, kill zombies, reclaim buildings, interact with factions, hunt, as well as do other useful things outside the fort's walls. Survivors can also be assigned to missions inside the fort, such as farming and research.
Survivors can be assigned to missions in one of two ways:
By dragging and dropping a survivor's portrait onto the desired mission area. This will bring up a radial menu with all the missions available for that survivor at that location.
By clicking directly on the building or area in which the mission is to be performed. From here, selecting the "Start Mission" tab will allow you to select the desired type of mission, as well as the survivor(s) to assign to it.
Rebuild: Gangs of Deadsville has a large variety of missions available for survivors to accomplish. The availability of these missions depends on the survivor's location: areas outside the fort have different missions from those inside the fort, for example. The presence of resources, zombies, or other factions will also affect the range of missions in an area.
Guard Duty — The default mission. The survivor will guard the fort walls, reducing the risk of injury or territory loss from a zombie attack.
Build — The survivor will replace or destroy the building in the selected area. Costs materials to build and gains material to destroy.
Scouting — The survivor scouts the area, revealing the surrounding geography and providing information on any survivors, resources, and/or zombies present. Researching improved scouting wil increase the area where fog of war is dispersed.
The time it takes to scout does not depend on any skill level or the number of survivors assigned on the mission. Also there seems to be no danger involved. Therefore it is advisable to spread out survivors on scouting missions.